Our Air Duct Cleaning Process
It Starts with the Right People and Equipment
The Duct Masters® cleaning process begins with our highly skilled technicians arriving at your home or office at the scheduled time in our well-equipped truck. Our equipment includes a 350 pound 31 hp gasoline powered vacuum with a 10' tall filter bag to collect the debris, a powerful 175 psi truck-mounted compressor complete with air hoses, a hurricane whip system, power nozzles and brushes to ensure ducts are scrubbed clean, and our EPA registered deodorizing solutions to help eliminate odors associated with bacteria, mold, mildew, fungi, yeast and algae.
Before we begin, we survey your system and then spend a few moments discussing our process for cleaning your vents and answering any questions you may have.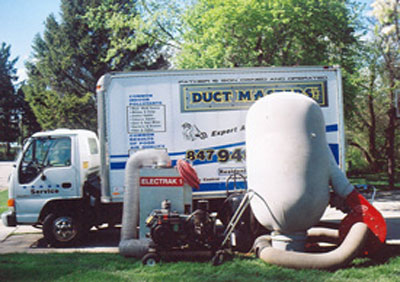 Our Powerful Vacuum System is Connected
We begin by assembling our powerful vacuum and filter bag system outside of your home near a window or door located as near to the furnace as possible for maximum suction. We then connect a 10" diameter hose from our vacuum system to the main air handler ductwork or trunkline of your heating system, a short distance from the furnace. The vacuum system is turned on, and will remain running throughout the entire cleaning process. Using our powerful vacuum, we establish a 50-70 MPH backward airflow through the supply air duct system, which is about 25 times the air flow of the typical heating system.
The reverse airflow allows us to lift and carry all the organic matter and debris we scrub from the interior of the supply ductwork out of the structure. We place covers on all of the vents before we begin our work. The air flow, along with the vent covers, helps control any materials from being released into your home.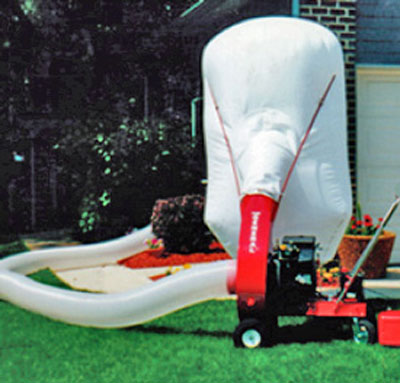 Each Air Duct Run is "Whipped" Clean
Now, it's time to begin the duct run cleaning. Using our truck-mounted compressor and air hoses, we clean each duct run with our Hurricane Whip System. The Hurricane Whip System consists of a whip and a duct ball which attach to the air hose. The highly compressed air forces the attached whip to scrub all duct surfaces inside of the duct run. The duct ball then forces all debris loosened by the whip in the direction of the main vent. The debris is picked up by our powerful vacuum system and removed to the outside vacuum bag. This process is repeated for each supply and return vent of the entire system.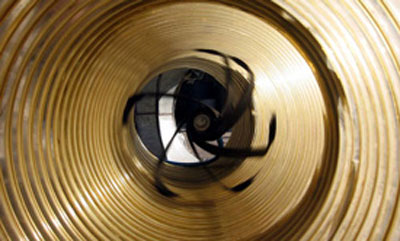 Each Register Cover Cleaned and Sanitized
Using a portable vacuum, each register is removed and cleaned. After a thorough cleaning, the ducts and registers are sanitized using our specially formulated mixture, similar in construction to a household bleach, but with a pleasant scent to give your system a "fresh start". This product uses no perfumes or masking agents and is registered by the EPA. It has been shown to be highly effective in eliminating odor-causing microorganisms as well as those associated with mold, mildew and bacterial growth. This product is NOT a biocide. Biocides are NOT recommended by the EPA nor the NADCA.
The Blower Motor and Air Handler are Cleaned
Using portable equipment, we manually clean the air handler, blower, coils, and supply trunk to the NADCA standards. These areas are also sanitized.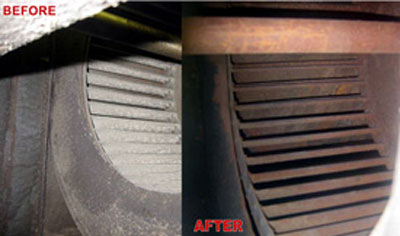 We finish with the examination of the entire HVAC system and report back to you on any conditions in need of repair.
That's all there is to it - your air quality is now greatly improved and we're on to our next stop!
Serving the Chicago Suburbs with State of the Art Equipment,
Friendly Customer Service and Highly Experienced Technicians